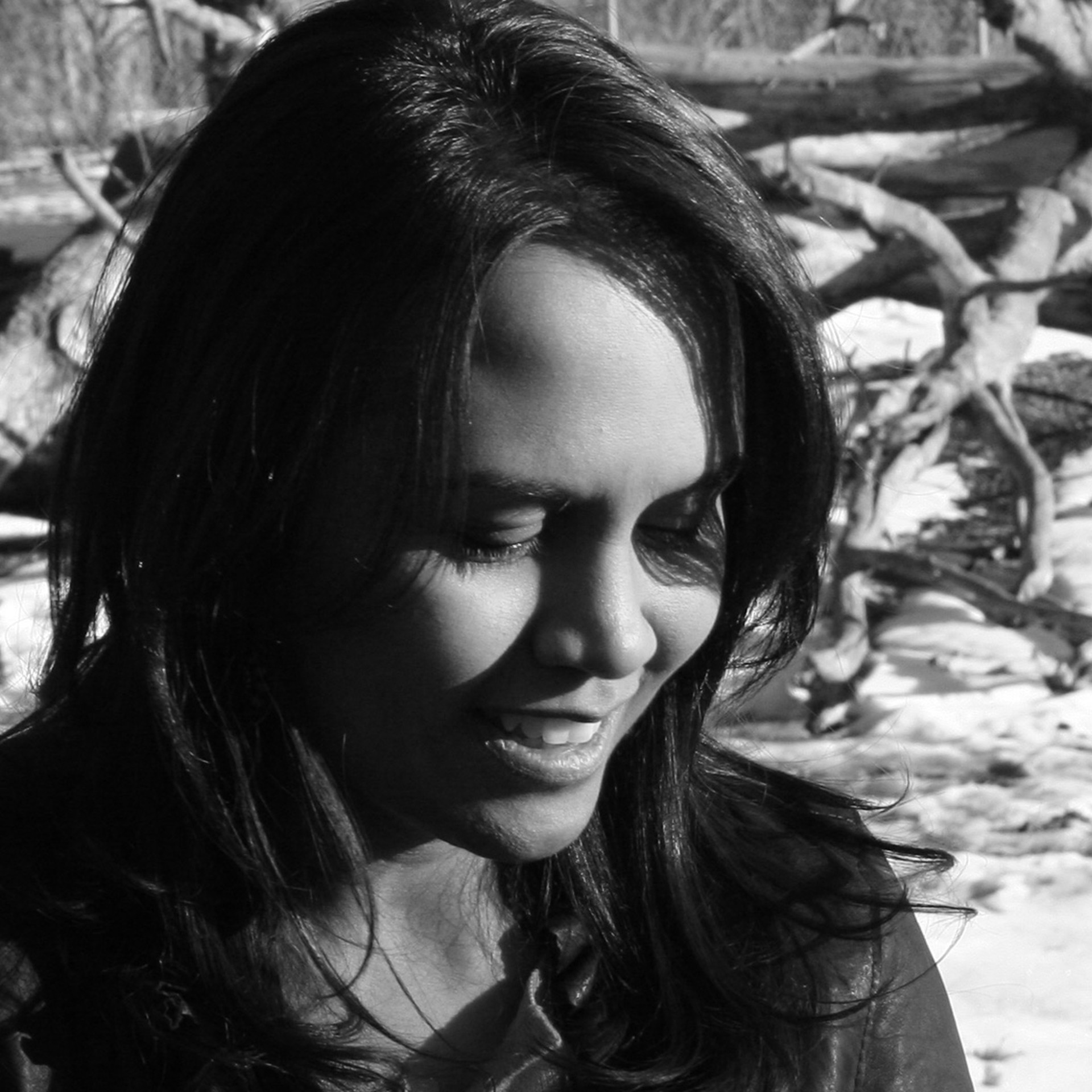 Suchitra Mattai is a multi-disciplinary artist of Indo-Caribbean descent. She uses a mixed-media approach to explore how memory and myth allow us to unravel and re-imagine historical narratives.
Her primary pursuit is to give voice to people whose voices were once quieted. Using both her own family's ocean migrations and research on the period of colonial indentured labor during the 19th Century, Suchitra seeks to expand our sense of "history." Re-writing this colonial history contributes to contemporary dialogue by making visible the struggles and perseverance of those who lived it. She often focuses on the experiences of women and employs practices and materials associated with the domestic sphere such as embroidery, weaving, vintage saris and other fiber elements. Suchitra re-imagines found materials that have a rich past as a way of creating a dialogue with the original makers and the time periods in which they were once cherished as well as a means of navigating her own personal narrative. Thinking about colonization in Guyana and the rest of the Caribbean is a way of tracing her family's history in Guyana and India and of fostering discussion around contemporary issues surrounding gender and labor.
Suchitra's process is one of reconciliation. Combining, re-contextualizing, and reconfiguring disparate materials is a way of making sense of the world around her and the multiple cultural spheres that she inhabits as an Indo-Caribbean American. She creates two-dimensional works, installations, and sculptures that allow disparate found objects and hand-made objects to cohabitate, reflecting the multi-dimensionality of culture and community
Suchitra received an MFA in painting and drawing and an MA in South Asian art from the University of Pennsylvania. Her recent projects include a commission for the Sharjah Biennial 14, "State of the Art 2020" at Crystal Bridges Museum, a commission for the MCA Denver, a Denver Art Museum and the Biennial of the Americas jointly sponsored installation, and solo exhibitions at the Boise Art Museum and K Contemporary Art. Current and upcoming projects include group exhibitions at the Art Gallery of Ontario (Toronto), MCA Chicago (Chicago), Kavi Gupta Gallery (Chicago), and the John Michael Kohler Arts Center (Wisconsin). Her work is in collections that include Crystal Bridges Museum, Jorge Perez, the Denver Art Museum, the Tampa Museum of Art, and the TiA Collection (Santa Fe).
Selected Exhibitions
2022
Forecast Form, group exhibition, MCA Chicago, Chicago, IL
Solo exhibition, Kavi Gupta Gallery, Chicago, IL
Monster, solo exhibition, Unit London, London, UK
Felix Art Fair, Kavi Gupta Gallery, Los Angeles, CA
Herself as another, solo exhibition, Hollis Taggart Gallery, NYC, NY
Depth of Identity, curated by Rosie-Gordon-Wallace, Green Family Art Space, Miami, FL
In the Adjacent Possible, group exhibition, John Michael Kohler Arts Center, Sheboygan, WI
(de)framing identity and the body, Utah MOCA, Salt Lake City, UT
State of the Art 2020: Constructs, Sarasota Art Museum, Sarasota, FL
Alter, Twelve Gates, curated by Sadaf Padder, Philadelphia, PA
Reorient, curated by Lele Barnett, Wing Like Museum, Seattle, WA
Breathe into the past: Crosscurrents in the Caribbean, Colorado Springs Fine Arts Center at Colorado College, Colorado Springs, CO
2021
Fragments of Epic Memory, group exhibition curated by Julie Crooks, Art Gallery of Ontario, Toronto, ON
Realms of Refuge, group exhibition, Kavi Gupta Gallery, Chicago, IL
Art Basel Miami, group exhibition, Kavi Gupta Gallery, Miami, FL
Untitled Art Fair, K Contemporary, Miami, FL
Breathing Room, solo exhibition, Boise Museum of Art, Boise, ID
The Armory Show, 2021, group exhibition, Kavi Gupta Gallery, NYC, NY
Song of Songs, group exhibition of contemporary artists in conversation with Ithell Colquhoun curated by Rachel Thomas (Irish Museum of Modern Art), Unit London, London, UK
Home, group exhibition, Sugar Hill Children's Museum, NYC, NY
Rites of Passage, group exhibition, Unit London, London, UK
Reunion, group exhibition, Hollis Taggart Gallery, NYC, NY
See and Be Seen, group exhibition, Praise Shadows, Brookline, MA
No Oceans Between Us, group exhibition, San Antonio Museum of Art
Fresh Earth, Aicon Gallery, New York, New York
2020
State of the Art II, Crystal Bridges Museum/ The Momentary, curated by Lauren Haynes, Bentonville, AK
"History Reclaimed," two-person exhibition with Adrienne Elise Tarver, Hollis Taggart Contemporary, New York, NY
Innocence and Everything After, solo exhibition, K Contemporary Art, Denver, CO
Untited Art Fair, on-line viewing room, Miami, FL
LA Art Show, K Contemporary Art, Los Angeles, CA
"Cultural Encounters: Art of Asian Diasporas in Latin America and The Caribbean, 1945-Present," traveling group exhibition, Art Museum of the Americas, Washington, DC
2019
Sharjah Biennial, Leaving the Echo Chamber, curated by Claire Tancons, Omar Kholeif, and Zoe Butt, Sharjah Art Foundation commissioned project, Sharjah, UAE
Solo Installation. Denver Art Museum/Biennial of the Americas, Denver, CO
Womens' Work," Pen and Brush, New York City, NY
Pulse Art Fair, K Contemporary Art, Miami, FL
"Fugue," solo exhibition, the Vault residency, Denver, CO
"Woven Stories," group exhibition, Lancaster Museum of Art and History, Lancaster, CA
"Each of Us is Several," two person exhibition, Platte Forum, Denver, CO
"Small is Beautiful," group exhibition, Flowers Gallery, London
2018
Pulse Art Fair, K Contemporary Art, Miami, FL
"Sugar Bound," solo exhibition, Center for the Visual Arts, Metropolitan State University of Denver, Denver, CO
"Sweet Asylum," solo exhibition, K Contemporary, Denver, CO
"Landfall," solo exhibition, GrayDuck Gallery, Denver, CO
Museum of Contemporary Art, Denver, commissioned project, Denver, CO
2017
Denver Art Museum/SkyHouse Commission, Solo Exhibition/Installation, Denver, CO
Liminal Space, CCADI, NYC, NY
Nice Work if You Can Get It, group exhibition, RedLine Contemporary Art Center, Denver, CO
Axis Mundi, group exhibition, Platte Forum, Denver, CO
2016
Revisionist, solo exhibition, Artworks Loveland, Loveland, CO Monumental, group exhibition, RedLine Contemporary Art, Denver, CO
Typecast, Hillyer Art Space, Washington, DC
Art of the State, group exhibition, Arvada Center, Wheatridge, CO
Visitation, group exhibition, GrayDuck Gallery, Austin, TX
Drawing Never Dies, group exhibition, RedLine Contemporary Art, Denver, CO
The Intrepid Garden, two-person exhibition, Buell Theater, Denver Performing Arts Center, Denver, CO
Education
MFA, Painting and Drawing, University of Pennsylvania, Philadelphia, 2003
MA, South Asian Art, University of Pennsylvania, Philadelphia, 2001
BA, Statistics, Rutgers University, New Brunswick, NJ 1994
Press Emann Odofu, Suchitra Mattai's Guyana exists in the gaps of the western archive, Document Journal, March 08, 2022,
https://www.documentjournal.com/2022/03/suchitra-mattais-guyana-exists-in-the-gaps-of-the-western-archive/
Aron Mok, Suchitra Mattai Probes the Monstrous Misperceptions Around Immigrant Identity, Hyperallergic, March 8, 2022, https://hyperallergic.com/715678/suchitra-mattai-probes-the-monstrous-misperceptions-around-immigrant-identity/
Salomé Gómez-Upegui, Artsy, Suchitra Mattai's Soulful Works Convey Unspeakable Truths, February 4, 2022 https://www.artsy.net/article/artsy-editorial-suchitra-mattais-soulful-works-convey-unspeakable-truths
Sammi Lee, Plinth UK, Monstering with Suchitra Mattai, January, 2, 2022 https://plinth.uk.com/blogs/in-the-studio-with/monster-suchitra-mattai-unit-london
Sadaf Padder, A Tale of Two Countries: Finding Indo-Caribbean Shakti in Colorado, Hyperallergic, January 23, 2022
https://hyperallergic.com/705864/a-tale-of-two-countries-finding-indo-caribbean-shakti-in-colorado/
ArtNet News, Looking for the Next Big Thing? Here Are 6 Exciting Artists to Watch From Miami Art Week 2021, December 7, 2021 https://news.artnet.com/market/looking-for-the-next-big-thing-here-are-6-artists-to-watch-from-miami-art-week-2021-2043675
Alison S. Cohn, Harpers Bazar, Art Returns to Miami After a Two-Year Hiatus, Dec. 2, 2021
https://www.harpersbazaar.com/culture/art-books-music/a38402593/art-returns-to-miami-december-2021-january-2022/
Salome Gomez-Upegui, Artsy , Nov. 30, 2021
https://www.artsy.net/article/artsy-editorial-10-best-booths-untitled-art-miami-beach-2021
Stewart Lee, "Touched by the Hand of Ithell-My fascination with a forgotten surrealist, The Guardian, October 11, 2021 https://www.theguardian.com/culture/2021/oct/11/touched-ithell-colquhoun-forgotten-surrealist-stewart-lee
Ashley Bardhan, 'Fresh Earth' at Aicon Gallery Wrestles With Colonialism's Environmental Impacts, the NY Observer, April 15, 2021
Cate McQuaid, Restoring Power with Portraits at Praise Shadows Art Gallery, the Boston Globe, January 13,th 2021
https://www.bostonglobe.com/2021/01/13/arts/restoring-power-with-portraits-praise-shadows-art-gallery/
Gregory Volk, "A Survey of American Art That Isn't Just Coastal," Hyperallergic, March 7, 2020
https://hyperallergic.com/546373/state-of-the-art-202o-at-crystal-bridges-museum-of-american-art/
Ray Mark Rinaldi, The Denver Post, Artist Suchitra Mattai's latest exhibit takes a hard look at a difficult year, and envisions a path forward, July 28th, 2020
https://theknow-old.denverpost.com/2020/07/28/suchitra-mattai-k-contemporary/242374/
Corinne Anderson, Suchitra Mattai Expands Our Sense of History and Identity in New Solo Show, July 23, 2020
https://303magazine.com/2020/07/suchitra-mattai-k-contemporary/
Isis Davis-Marks, History gets reclaimed at Hollis Taggart Gallery, Widewalls, June 8th 2020 https://www.widewalls.ch/magazine/history-reclaimed-hollis-taggart-gallery
Sarah Cascone, "Editors' Picks: 19 Things Not to Miss in New York's Art World This Week," ArtNet News, March 2, 2020 https://news.artnet.com/art-world/editors-picks-march-2-2020-1785762
Kwon Mee-Yoo, "Sharjah Biennial breaks barriers of perception," The Korea Times, May 5, 2019
https://www.koreatimes.co.kr/www/culture/2020/02/145_268529.html
Sarah Cascone, "Editors' Picks: 19 Things Not to Miss in New York's Art World This Week," Artnet News, April 8 2019
https://news.artnet.com/art-world/editors-picks-april-8-2019-1498255
Ann Binlot, "the 14th Sharjah Biennial tells the stories ignored by popular culture," Document Journal, April 3rd, 2019, https://www.documentjournal.com/2019/04/the-14th-sharjah-biennial-tells-the-stories-ignored-by-popular-culture/
Tom, Seymour, Wallpaper Magazine, "Sharjah Biennial 14 is raising the emirate's cultural cache," March 20, 2019
https://www.wallpaper.com/art/sharjah-biennial-14-leaving-the-echo-chamber
Osman can Yerebakan, "Our highlights from the 14TH Sharjah Biennial: Leaving the Echo Chamber, Cultured Magazine, March 12, 2019, https://www.culturedmag.com/sharjah-biennial/
KATRINA KUFER, Sharjah Biennial Is One Of The Best Art Happenings This Season," Harpers Bazaar Arabia, March 17, 2019,
https://www.harpersbazaararabia.com/art/fairs-and-events/leaving-the-echo-chamber-sharjah-biennial
Shailaja Tripathi, "Making Way for New Stories," The Hindu, March 14, 2019, https://www.thehindu.com/entertainment/art/making-way-for-new-stories/article26533342.ece
Ryan Warner, CPR (Colorado Public Radio), interview on Colorado Matters,https://www.cpr.org/news/story/artist-suchitra-mattai-
Brenner, Wayne Alan. "Suchitra Mattai: Landfall" at grayDUCK Gallery, The Austin Chronicle, Dec. 21st, 2018
https://www.austinchronicle.com/arts/2018-12-21/suchitra-mattai-landfall/
Kirschner, Noelani, "Portraits of Colonialism: Suchitra Mattai," The American Scholar," August 20th, 2018, https://theamericanscholar.org/suchitra-mattai/ - .W500QrbMzVo
Michael Paglia, Westword, September 12, 2018, https://www.westword.com/arts/suchitra-mattai-explores-her-complex-heritage-in-cvas-sugar-bound-10767356
Joshua Ware, Other Narratives Other Histories, Entropy Journal, April, 2018, https://entropymag.org/other-narratives-other-histories-on-suchitra-mattais-sweet-asylum/
Grace Anezia Ali, A Collection of Contemporary Women's Voices on Guyana, Brill Publishing, 2017
Awards/Lectures/Boards
Interview with Denver Art Museum curator Rebecca Hart, Untitled Art Fair programming, Miami, FL, 2020
Logan Lecture, Denver art Museum, Denver, 2019
RedLine Denver Artist in Residence, 2014-2016
Angelo Savelli Award, Penn School of Design, University of Pennsylvania,
Royal College of Art Fellowship, London, England 2002
U.S. Dept. of Education Foreign Language and Area Studies Fellowship, Full Tuition
American Institute of Indian Studies, FLAS Fellowship, Udaipur
Collections
Crystal Bridges Museum of Art (Bentonville, AR)
Denver Art Museum (Denver, CO)
Jorge Perez
Komal Shah
Olivia Walton
Kiran Nader Museum of Art (New Delhi, India)
TIA Art Collection
Taylor Art Collection
Born Hotel, Denver, CO
Inter-Continental, Minneapolis, MN
Read More